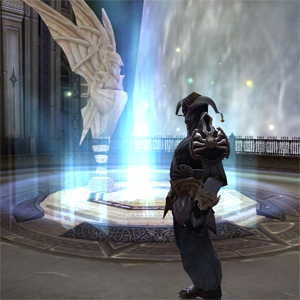 IntroductionEdit
Teleport Gates are one of the most useful magical devices in the Versailles Continent, which have the capacity to transfer instantaneously any material or person to a specific destination[1] but there are limitations[2] and different kinds of Gates.
DescriptionEdit
There are Teleport Gates in major castles and Cities. There are different types of Teleport Gates. The basic features are:
More informationEdit
So far, we have identified three types of teleportation (dissambiguation is still needed).
Teleport spell[12]
Single Portal
Teleportation network (gates)

Located in every prominent church, each religious order manages their own Teleport Network, every church has a Rune engraved in its building and needs to be activated by the priest's mana[20].
Players require Contribution Points[21] to be able to request the use of a Gate or if his fame with one religious order is very high, then the player can request to use the Network without the need to spend Contribution Points[22].

Places with Teleport Gates
ReferencesEdit
Community content is available under
CC-BY-SA
unless otherwise noted.