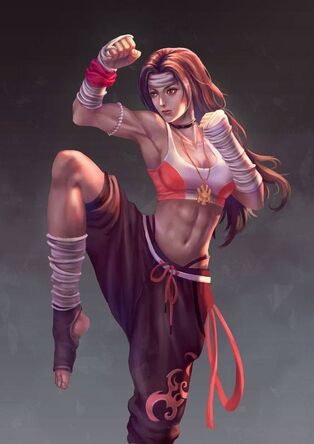 Introduction Edit
Yoon Soo Park[1] is one of Weed's friends. She has the same age as Yurin[2]. In Royal Road she plays as Surka, a Monk. She has a frank and direct personality[3] different from Romuna, her older sister. She started in the Serabourg City[4], in the Rosenheim Kingdom and became a Lord in the Arpen Kingdom[5].
Profile and dataEdit
Stats and skillsEdit
Monk is a close combat class[8].
As a monk, she is a fast fighter, she specializes in rapid punches.[13]
Weed's Friend
Influence of Geomchi's Fighting School
Lordship & Master Quest

She became a Lord in the Arpen Kingdom after Weed gave her a piece of territory in the northern colonies[37].
She decided to master her monk skills before proceeding with Master Quest[38].
References Edit
Community content is available under
CC-BY-SA
unless otherwise noted.