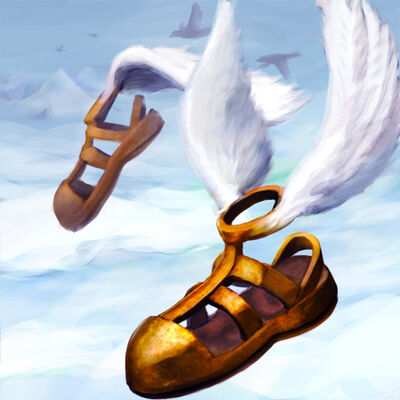 IntroductionEdit
The Sky Boots were stolen by Weed from an Hermes member[1]. Having previously been made famous over the media, they became the Symbol of Weed rebellion & momentum against the Haven Empire[2], 
DescriptionEdit
The blue winged boots have a very distinctive appearance. They are painted blue with a Sun and Clouds on them[3].
Item InformationEdit
The blue winged boots should be compared to the greek God Hermes winged Shoes, also called Talaria. They increase[4]:
Movement speed over long distances
Magic resistance
Stats (Honor: +?, Dignity: +?) by a total of 70 points.
This unique pair of boots was owned by a member of the Hermes Guild, robbed by Weed
Having appeared several time on broadcast, they were rather famous.
Weed hunting incognito on the Central Continent was recognized by other gamers because of those boots.
Weed, defending against bounty hunters that went after him, got various Killing Penalties, with the titles of Murderer, mass murderer and terrible (mass) murderer[5].
ReferencesEdit
Community content is available under
CC-BY-SA
unless otherwise noted.