The road to become an emperor. The dream to rule over continents. Welcome to Royal Road.

—Royal Road's homepage[1]—.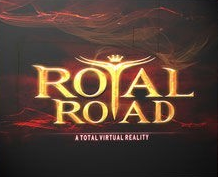 About Royal Road
Edit
Using the latest breakthrough technology known as the virtual reality system, the most popular virtual reality game is called "Royal Road". Royal Road is also the 1st game of its kind (virtual reality game). It is an open world VRMMORPG (Virtual Reality Massively Multiplayer Online Role-Playing Game). The main attraction of the game is the reward that the first player to unite all the continents under one banner and become Emperor will gain. The prize money for achieving this goal is 10% of the Unicorn Corporation's sales for one month.
Requirement to Play (hardware, software, etc…)
Edit
One is able to connect to Royal Road with a virtual reality capsule.
1 Capsule: ₩10,000,000 ($9,273.86 USD)
Monthly subscription/bill: ₩300,000 ($278.22 USD)
Means, you need, at least,
A year expense of ₩13,600,00 ($12,612.50 USD) + electricity bill to have your own private virtual capsule at home.
The Company
Edit
Unicorn Corporation is the company that developed and manage the online game "Royal Road". In the global online game industry, "Royal Road" owns a market share of over 75 percent.
The Creator
Edit
The game creator is Yoo Byung Jun.
The Hall of Fame
Edit
This is the way, Unicorn is promoting their best players, and through their gameplay, promote RR itself. The Hall of fame receive tremendous attention from the fans. You can upload your video
Only top ranked players
Edit
"The Hall of Fame; millions of people visited the record every day; it was popular enough that it was kept at the corner of the site"[2].
Only those that are highly acclaimed can be qualified to enter the Hall of Fame.
"For those that are first on the Hall of Fame, there is a major difference in terms of reputation."[3]
"Hall of Fame videos were generally monster hunts". Because high level players did not want to reveal their quests or their special skills and items.
"And of course, most had no interest in the lower section of the Hall of Fame"[4].
Weed original contribution
Edit
The first video Weed posted was a 19 hour and 49 minute movie.   
It was an absurd long movie and it became a hit. "Over 15,000,000 views already. The comments reached in the hundreds of thousands"[5].
Also, "the video Weed made was a big breather of fresh air".    
It was a tremendous battle with 400.000 orcs (over level 200) in the (yet unexplored) plain of despair.    
Also, il was a movie where "the main character came out, (= revealed parts of a unique chain quest) and when the conflict occurred, he didn't (only) swing the sword".   
Other Facts about Royal Road
Edit
"Royal Road" is played by many people globally.
Royal Road has programs/software that can translate any language in the game for people who speak a different language. Even if everyone spoke in a different language, thanks to the translator they can understand each other (in the game) as if it was their own language.
"Royal Road" came on the market in the early 21st century (just past or during the real estate slump).
In Korea, Major TV channels only broadcast "Royal Road".
"Royal Road" has already been released 15 months (1 year, 3 months) ago from vol 1.
The game has a special feature limited to adults. For example they are able to use "Night Life" and "Pleasures".
24 hours in real time is equal to about 4 days in game time (Royal Road).
ReferencesEdit
Community content is available under
CC-BY-SA
unless otherwise noted.