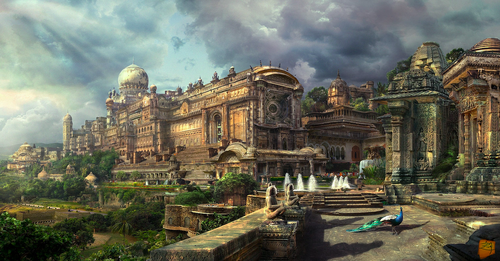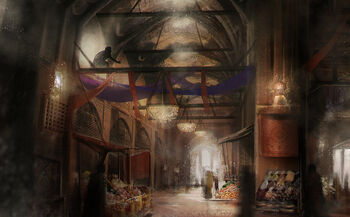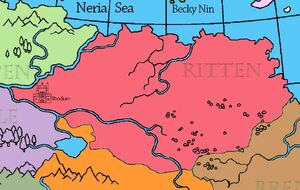 IntroductionEdit
Rhodium is located in the Ritten Kingdom to the north of the central continent. It is known as the City of Artist and Production classes[1].
Description Edit
Rhodium is a beautiful and romantic City. "On the Versailles Continent, it's the place where culture once bloomed like a brilliant flower. The city is built majestically and it is said also to be the birthplace of the Production and Art profession[2]. It is filled with wonderful Architecture and public Art pieces. They are many young artists everywhere, but also too many beggars[3]. In the past, the village of Rhodium has a sunset so beautiful that Painters and Sculptors gathered in Rhodium to re-create the landscape[4]. Rhodium Square is the main plaza in the City[5].
City Information Edit
Once a major City, with a glorious artistic past
A City with no leadership and broken finance

Rhodium is a City without a lord[13].
The city, as a whole, is very large but without efficient and smart leadership, it does not serve the best interest neither of gamers, nor of artistic and production classes overall. For example :

Still a City with artistic and economic potential

The City is beautiful. Each piece decorating the streets and houses of Rhodium is crafted with very devoted effort[22].
Rhodium map is geometric. The streets are harmoniously and efficiently shaped like a spider's web[23]. There are many shops nestled in here.
There are many young artists in the streets, either painting or sculpting. Others are playing instruments, often performing on the spot.
For example, the Sculptor Guild[24] includes a special room, called the The Stellar Tear[25]

A special room, with limited access, within the guild.
It is made out of a piece of a fallen giant meteor
It contains hundreds of sculptures, made by expert sculptors
Access fee is 200 gold.
Exception: if the sculptor's skill has reached advance level, or if level of recognition by nobles is high enough.

It could organize a special exhibition to attract artist or tourism, as Morata Art Center[26] is doing. A few powerful religious order could also be invited, and Art could synergies with their faith[27].
Many tourists are still coming to Rhodium, since it had become a trend to tour the castles and cities of the continent.
With Art and Production class contribution having been discovered,some funds and smart leadership, the City has the potential to raise and shine again.
References Edit
Community content is available under
CC-BY-SA
unless otherwise noted.