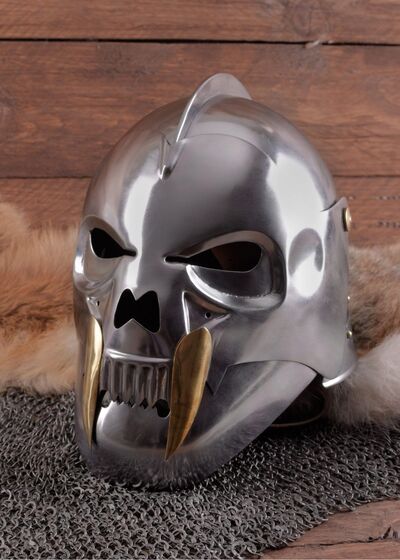 IntroductionEdit
This ancient helmet, that their Legendary Orc  Lord Parachwi wore, is sacred for the orcs. It was crafted by an ancient Dwarf Blacksmith in the great city of Ratzeburg[1].
DescriptionEdit
This heavy steel helmet was made with the most solid pitching and was a gift from the ancient Dwarf tribe to Orc lord Parachwi [2].
Item informationEdit
Legendary Parchwi Steel Helmet
Durability: 24/60
Despite the age passing, the steel helmet has been religiously preserved by the Orcs.


Restrictions: Orc Race only.
Requires :


Level: 570

Strength: 2,300


Special Options:


Rules over all the Orcs
Orc Birthrate: +50%
All combat skills: +35%
All related combat stats : +25%
If targeting a larger monster, will deal +40% damage.
Complete immunity to Magic.
Impossible to repair.
Due to the unique historical value of this Legendary Helmet, Blacksmith skill proficiency increases.
ReferencesEdit
Community content is available under
CC-BY-SA
unless otherwise noted.