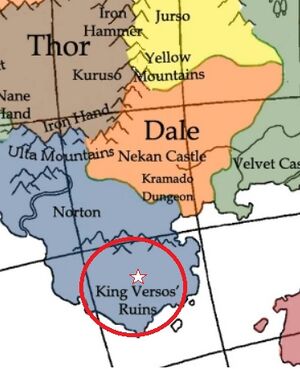 IntroductionEdit
말루크[1]. First appeared at Volume 6[1] but properly given the name Malluk in Volume 29[2]. Malluk and Armored Insect guard the passageway to the entrance of King Belsos' stone chamber.
DescriptionEdit
Malluk can be found inside the King Belsos Tomb, in Musos Valley[3].
Hundreds of this monster lurking around the passageway to King Belsos' stone chamber.
Other areas with Malluk have yet to be mentioned by the author.
Monster InformationEdit
Physical appearance

Wide mouth
Sharp teeth
Strong and hard skin and bones, especially around its head area.

Launch ruthless attack like it was nothing

It attacks with its front paws
Rammed its head against its opponent
Spewing fire
Bites its prey using its widely open mouth.
Hundreds of Malluks attacked ruthlessly against the Spartoi. They attacked with their front paws, rammed its head, spewing fire and then open wide its mouth, biting like it was nothing[4].
While fighting Malluk, Weed equipped Goddess's Knight Armor to increase his mana regeneration speed. He deliberately took hit from Malluk to improve his perseverance and resilience stats[7].
External LinksEdit
ReferencesEdit
Community content is available under
CC-BY-SA
unless otherwise noted.