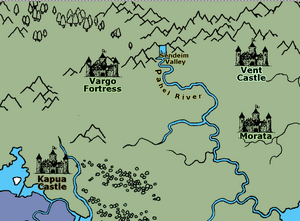 IntroductionEdit
The Lizard King is the leader of the Lizardman, that can be found inhabiting the Sendheim Valley in the Northern Continent[1].
DescriptionEdit
It resembles the lizardmen but is taller and stronger[2]. It is an ally of the Evil Embinyu Cult in the Sendheim Valley
Monster informationEdit
The Lizard King wields an axe as main weapon[3].
There are several lizard kings in the Valley, probably each one leading a tribe of lizardmen[4].
Low resistance to magic attacks[5].
References Edit
Community content is available under
CC-BY-SA
unless otherwise noted.