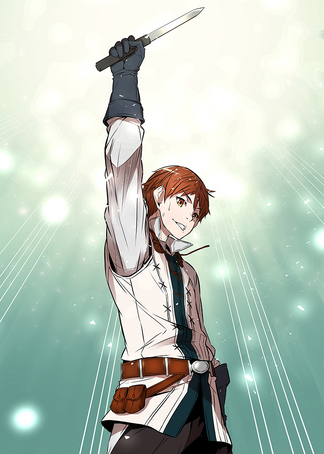 IntroductionEdit
LMS Webtoon Publisher Company, Arc Novel, has released a new post in its official blog[1]. The author apologize for the delay and confirmed that LMS webtoon season 3 is planned to be released late 2019.
DescriptionEdit
The latest news author posted on his blog:
Upcoming Season 3 is under progress.
Publisher is Kakao.
Planned schedule: early 2020
Webtoon will be available on Kakao website[2].
Our translation :
Hello.

《Legendary of the Moonlight Sculptor》 In-time editor who oversees the planning of the Webtoon. First of all, We would like to express my sincere apologies for not being able to give you the long waited releases and also not being able to deliver fast enough information with our long silent. After the end of season 2, internal circumstances led to the introduction of a new writer for season 3. The process itself took some time.

We've made a lot of preparations, such as modifying the design of new characters, adjusting the color style of the Assistant team, It was last summer when the full-scale production being established and the plan was to resume season 3 in October.

Unfortunately, the writer had an accident. His arm wasn't hurt really bad, but his/her movements were still rather uncomfortable, causing delays in the planned schedule.

This was not announced in advance because it was a matter of privacy and a shift of responsibility for the writer. Even now, this part is very careful and the notice has been prepared in agreement with the writer. The company feels strongly responsible for the prolonged suspension, and the writer is now focusing on the work with a firm determination to draw well.

Currently, we are coordinating our schedule with the platform to early next year on the schedule for serialization, and if the exact schedule is confirmed, we will announce it. We would like to apologize again for having to ask you to wait a little longer. We will do our best to get back to season 3, as soon as possible. We'll inform you again with the good news next time.

Thank you!

---

This notice was revised after consulting with the platform and was published in the serial column.

[Source] Webtoon 《Legendary of the Moonlight Sculptor》 Some avid readers came to the editorial blog and asked if the writer was in the military, but all of them have been answered in advance. (However, there may be some former Assistants who are currently doing their military duty.)

Thank you.

[Source] Webtoon 《Legendary of the Moonlight Sculptor》 Apology on the delay of the series | Arc Novel
ReferencesEdit
Community content is available under
CC-BY-SA
unless otherwise noted.