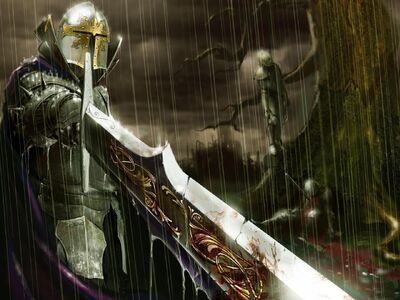 IntroductionEdit
A Knight Officer and a leading figure from Kallamore Kingdom. A hero that had led his soldiers into countless battles and won against Haven Kingdom [2] before he was tricked by Vampires and his soul entrapped inside a bead.
Profile and dataEdit
Gender: Male
Race: Human
Class/Job: Knight
Level: N/A
Status: Game World, Deceased[3]
Mentioned: 1st mentioned Volume 11 Chapter 9;
NPC InformationEdit
His soul trapped inside a bead for 30 years before Weed and his colleagues liberated him.
The bead being kept inside the Vampire treasury in Todeum kingdom.
Stats and skillsEdit
More to come
Haven Kingdom and Vampire Complot[4]

Haven Kingdom conspired with Vampires to kidnap Kolderim, but their plan failed.
Vampires then lured him away from his soldiers with the beautiful Vampire Queen.
Captivated by her, Kolderim unknowingly followed. As a result, his soul was stolen by Vampires. They sealed his soul inside a bead and kept it inside Vampire Treasury in Todeum.
His soldiers can't catch up with his horse riding skill. In the end, they only found his soulless body. He was presumed dead.
Without their leader, Kallamore Kingdom lost to the Haven Kingdom army during that war.

Kallamore Kingdom's The Supreme Commander of Army[5]

Kolderim make a formal appearance in front of his King, King Vincent Kallamore III after liberated by Weed and his companions.
He explains to him chronology of his 30 years disappearance, the perpetrator and also his saviour.
Once the King heard about this, he decided to launch the war against the Haven Kingdom and restore Kallamore Kingdom's former glory.
Kolderim acted The Supreme Commander and leads of 90,000 Kallamore Kingdom's army troop[6].

Kolderim and Van Hawk, Death knight Connection
ReferencesEdit
Community content is available under
CC-BY-SA
unless otherwise noted.