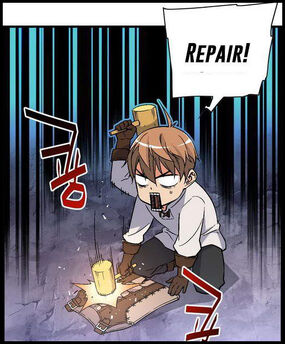 IntroductionEdit
Also translated as Repair Skill. First introduced in Volume 1 Chapter 3. It is production-related classes sub-skill; eg Blacksmith, Sculptor or Tailor classes. It helps gamers to lift the durability limitation on their weapon, while travelling and dungeoning.
DescriptionEdit
As it is a sub-skill, so it increased in level quicker than other main skills like Sculpting or Cooking Skill[1].
It gives the option of mentioning the type of repair, which obviously is not limited but related to a certain skill; eg. Sculpture repair (Sculptor class), Armour and Weapon repair (Blacksmith class).
Enables the user to repair items and restore its durability. The higher user skill level will result in higher item durability restoration after it was repaired[2].

Sculpture Repair
Clothes Repair

So it's either a basic skill open to everyone or a strategic sub-skill for certain classes (source).
Could also become a major skill, like a speciality, if the technology level growth strong enough.
Skill InformationEdit
In order to activate this skill, the user need to chant "repair!" while using repair tools like hammer or sculpting knife.
Repairing item using specialized repairing tools like hammer increases repairing skill by a certain percentage.
Beginner Level

Beyond Lv. 5, the user can forge basic weapons and gears.

Intermediate Level

The ability to repair has been improved based on the skill level.
Able to restore the maximum durability of an equipment with a complete repair.
The Blacksmithing skill can be learned at this stage.

Advanced Level
Skill Advantages
References Edit
Community content is available under
CC-BY-SA
unless otherwise noted.