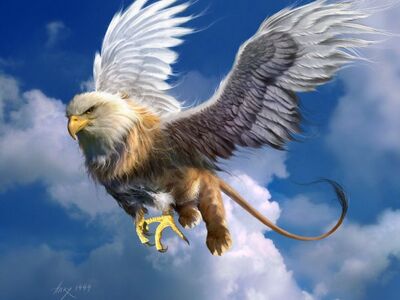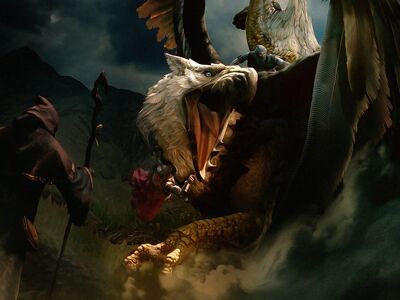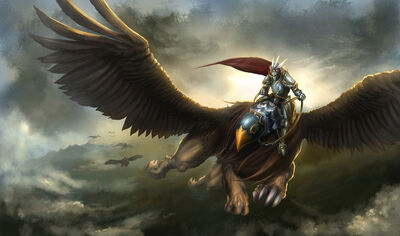 IntroductionEdit
Weed first encountered Griffons when rescuing the Arnin from the enemy castle at Tubkal Peak during his Master Quest[1].
DescriptionEdit
The griffon is a winged quadruped animal with the head of an eagle. A Griffon can have different forms of the body but one of the most common is from the wings to the hindquarters is that of a lion, where the front of the Griffon resembles an Eagle, including its front talons.
Subspecies size is often related to their region of origin [3]
Monster InformationEdit
Combat Abilities

General

Posses the ability to fly
Have excellent night vision[5]
Combat power will rise if they are exclusive to one person and that person is riding them[6]
The Haven Empire has special armor specifically for griffons called the The Golden Sapphire Griffon Set[7]
Powerful riders can increase griffon aerial movement speed while they are in the saddle[8]

Agility Based

Piercing Spear, Flying skill, allows for extremely nimble movements
Speed of the Wind, Master skill, grants abnormally high speed
Shorter Distance, Master skill, allows for sudden directional changes in the air
Enforce, Master skill

Rider Based

The special abilities of weapons can be used while riding
Knight's Charge, Knight skill, increases damage when charging on a mount
Live in a variety of locations, including the Northern Mountains and the Haven Empire
At Tubkal Peak, Griffons and Saber Toothed Tigers were being raised by the Arnin to be the Sulleions food[9]
The Griffons and Saber Toothed Tigers settled South East of the Harsel Mountains after they were freed
While Weed was transformed as a Griffon, female Griffons tried to court him[11]
ReferencesEdit
Community content is available under
CC-BY-SA
unless otherwise noted.