IntroductionEdit
While in Rhodium, Weed, as an artist had to be acknowledged by the city[1]. He used about 7000 pieces of Gold to make an expensive sculpture and named it Sculptor with a lot of money. Later on, using Sculptural Life Bestowal skill, he granted life to this sculpture[2] and named it Geumini or Gold Man.
Profile and dataEdit
NPC InformationEdit
Personality

Geumini has a smart and intuitive personality, almost feminine. He can act shy on some occasion. Geumini has high intellect and a faithful heart. He wants to make his creator proud and happy. For example, while the Wyverns were goofing around, Geumini went in dungeons alone and hunted.
He eats like a gentleman and uses a small knife to eat King Hydra's meat given by his Master[4].

Level

After the use of Life Bestowal skill, the level of the sculpture came from converting 50% of the 762 art stats, making it level 351. But because the sculpture was rated masterpiece, he was made with additional 20% bonus on his level. Therefore he was created elite, with a level 420.
Original abilities : Three properties have been granted. The abilities will be granted based on the sculpture's properties and level.

Properties:

Metal 100%
Water 60%
Fire 50%
Stats and SkillsEdit
Stats
Skills

His skills and levels are rising on a regular basis.
Geumini has ingenious skill with archery and sword-fighting and can use some magic skills.
His skill when he was at level 446[5];

Beginner Level 9 Swordsmanship (combat)
Intermediate Level 7 Archery Skill (combat)
Intermediate Level 4 Fire Control Mastery (magic)
Level 3 Fluid Conversion (magic)
Beginner Level 6 Jewelry Destruction Magic (magic)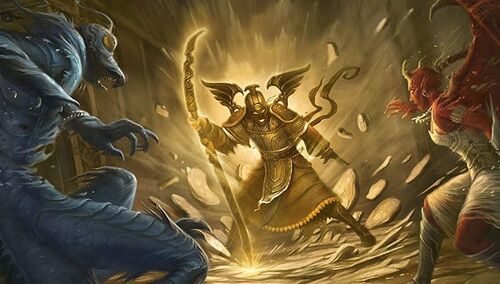 Combat skill

He has excellent combat skills and weak monsters are almost always slain instantly.
He can run fast.
He can wield swords with both hands[6].
He has great archery skills.
He works well with his bow on top of the Wyverns.

Magic skill

He has developed a special ability[7] while using his own body's characteristics.
He has strong magic resistance to most metallic magic.
However, due to its gold property, it is softer than usual.
He has an unlimited use of fire. However, excessive fire can melt and liquefy the body.
Enemies can be attacked in various ways from melting the body. However, a loss in volume will reflect on its body.

Other skill

He has Mining skill. He hunts inside abandoned mines around Morata and then mined for minerals with a pickaxe[8].
Background

To enter the Sculptors guild, one need to register as an artist of Rhodium city. For a foreigner to register as an artist, he/she only need to make an artwork anywhere in the City. Since Weed is a sculptor, he had to carve a sculpture there[9].
Weed went to an artist shop[10] to find the right materials to make the sculpture. After bargaining the price down from 18,000 gold to 10,110 gold, Weed bought all golds in the store to make the sculpture.
Weed named that sculpture "Sculptor with a lots of money" in a city where most of the artists are very poor. It was a sculpture made completely out of gold, and height of a man slightly shorter than him[11]. The sculpture was rated a masterpiece, partly because of the expensive material, partly because of Weed skill.
Somehow, he is similar to a golden and soft-hearted version of the T-1000 Terminator.

Weed Precious Teammate

Weed equipped Geumini with Agatha's Holy Sword and Clay Sword. Using both swords and attacking opponent like a lightening was Geumini's speciality [12].
His Master blackmailed Geumini, threatening that he would melt Geumini back into gold blocks if he refused to fight for him[13].
He was destroyed and lost his life to save his master[14] while fighting against Chaos Warrior Kubichya in Jigolath. Weed then ordered Golden Bird, Silver Bird and Yellowy to search and collect Geumini's remains[15]. He then did his best to revive him[16], but somehow Geumini lost some of his memories, or at least pretended to.
Weeds does NOT want him to risk his life, therefore in his presence, he tends to fight from a distance with his bow skills. Also, Weed forbids him to use his own unique skill,"Jewelry Destruction" unless they're in critical situation[17].
He is on friendly terms with the other Sculptural lifeforms and often fights on the Wyverns back[18].

Male or Female?
ReferencesEdit
Community content is available under
CC-BY-SA
unless otherwise noted.