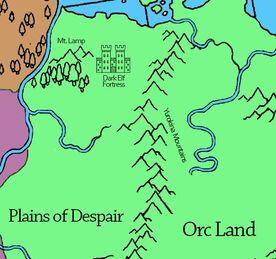 IntroductionEdit
A ferocious monster Weed encountered in the Yuroki Mountains, in the Plains of Despair.
DescriptionEdit
This insect-type monster looks like the mix of a mantis and a centipede, it is big as many other monsters in this region and its level is around 280[1].
Monster InformationEdit
Breaths fire to attack enemies.
It uses its weight to crush enemies.
It is very fast.
Hard shell.
Resistance to fire attacks
It is weak to ice and slow movement magic.
When Weed travelled to the Plains of Despair, he witnessed to a fight between Orcs and Fire Mantisses[2].
Using Sculptural Shapeshifting, Weed transformed into an Orc so that he could helped the orcs to defeat this monster. After defeating it, Weed obtained 1 point of Fame in the Yuroki Mountains[3].
References Edit
Community content is available under
CC-BY-SA
unless otherwise noted.