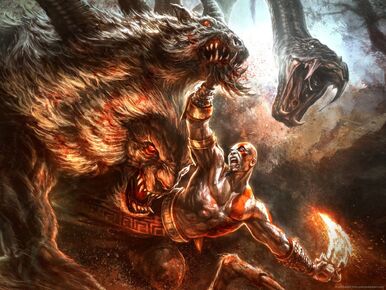 Chimera is the result of mixing together different monsters into one
Description

[

]
There are chimeras with wolf's head and a ogre's body, they were created by the Lich located in the

Rotten Lich Dungeon

[1]
The Dark Wood's Chimeras can be found in the Forbidden Zone of

Argoldia

[2].
Monster Information

[

]
Features of a chimera depend of the monsters used[3].
Chimeras in the

Rotten Lich Dungeon

are around level 300 to level 360 and don't have eyes, as they are undead chimeras[4].
Dark Wood's Chimera level is around 400[5].
Trivia

[

]
Weed went with Pale, his companions and some of the Geomchis to the Rotten Lich Dungeon in the Plains of Despair where they found chimeras and other monsters[6].
When the Bishop of

Lugh's Order

told to Weed about the situation in Lugh's Temple located in

Argoldia

, he explained him about the Dark Wood's chimeras attack on the Temple, this information was part of the request made to Weed to restore Sword of Lugh[7].
References

[

]