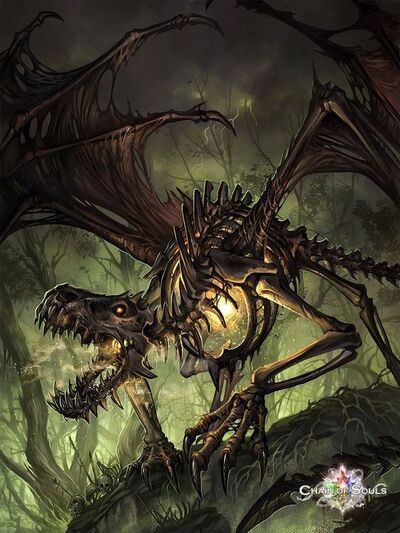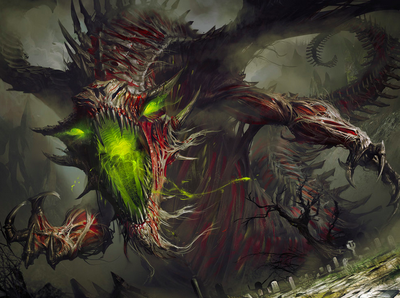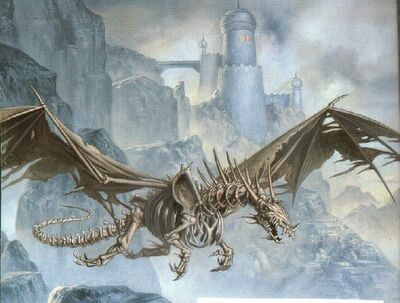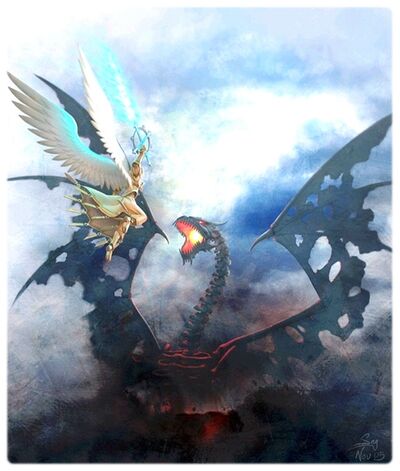 IntroductionEdit
A sinister spirit could not forsake the power of hatred and was revived as an undead. Originally a savage Red Dragon, since turning into an undead it became even more berserk"[1].
Description Edit
A bone dragon is considered a sentient elite Undead Beast. Size and power of the bone dragon is linked to the original Dragon that was used to create it. It requires Bone Dragon manufacturing magic, as described in the Necromancer tome written by Bar Khan.
Undead InformationEdit
A Bone dragon summoned by the Embinyu Church.
Showed a very devastating power, with roar that paralyze the users and corrosive Dragonbreath that can instakill most users. Weed at level 319 was one of the users who were instakilled from the Dragonbreath, but fortunately return as skeleton due to the 'Power to Reject Death'.
A Bone dragon in the death Valley strongly suggest a possible interaction between the Embinyu Evil Cult and the mad wizard Bar Khan, who invented the spell.
A Bone Dragon in Jigolath
Ironically, Weed himself turned into a Bone dragon for a few moments, due to the Power to Reject Death, in Jigolath underground dungeon[7].
Hermes guild hunting a bone dragon
It was shown on TV, that the Hermes Guild also hunted down a bone dragon[8].
References Edit