IntroductionEdit
A master necromancer who turned himself into a Lich[1], in order to achieve immortality; and the most powerful Lich of the Versailles Continent[2]. Therefore a Legendary Monster Boss in Royal Road and the third Main Antagonist after Embinyu Church and the Hermes Guild.
Profile and dataEdit
Bar Khan InformationEdit
When he was alive, Bar Khan was considered the most gifted necromancer of his generation. During his research, he created multiple new spells. The most awe inspiring is the Bone Dragons animation spell.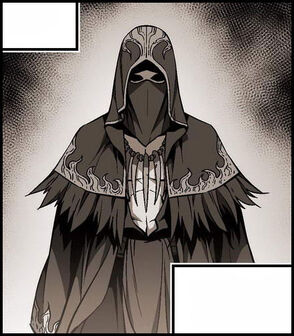 The mysterious figure of the master necromancer appears in several major circumstances :
Battle Achievements! You have successfully subdued Bar Khan Demoph and led a massive historic war to victory. The fame of every user that had joined the battle will increase by 12,790 points. All stats will increase by 6. Your relationship with the religious orders that had joined the battle will become friendly. You have earned a large number of contribution points. The Blessing of Batalli, the God of battles will be in effect for a week Drops -You have obtained two sheets of white elephant skin. -You have obtained a colorful deerskin. -You have obtained a sparkling pebble. -You have obtained 61 silvers.
ReferencesEdit
Community content is available under
CC-BY-SA
unless otherwise noted.