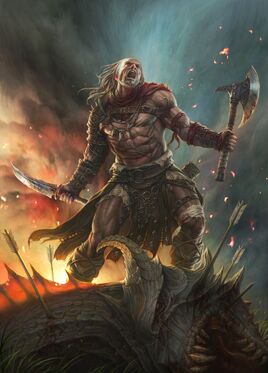 Bahamorg is a sculptural lifeform and a barbarian created by Geihar Von Arpen and revived by Weed. Among the 47 sculptural lifeforms, as a combat type, he is the strongest[1].
Profile and data

[

]
Stats and skills

[

]
Health of all allies during the battle will increase by 2.5 times. Protection skills for allies will be enhanced by 3 times. The enemy's determination has been cut in half. Damage will increase by 39%. Fear emanating monsters will be ignored.
More to come
Trivia

[

]
Killed easily

Chuge

, a Hermes knight captain and 18 guards, by himself, in front of the gold mine at Formos Castle in the

Tullen kingdom

[10]. As a warm-up, before starting hunting Hermes and Beden parties within the dungeon.  
He was originally created by Geihar Von Arpen and was his most powerful warrior.
Weed solved the quest for finding his dead body[11]. After finding it, he restored it with Sculptural Life Bestowal and gave him life again. After that, he actively builds

intimacy

with him. He was helped by Golden Bird.
Weed found Bahamorg corpse inside 3rd underground level of Drapkin dungeon [12] with guidance from Zerr. He then revived him using sculptural life bestowal skill and then treated his wounds.
References

[

]